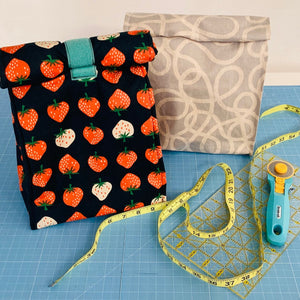 Learn the basics of operating a sewing machine in this 3 hour introductory workshop.  Leave the workshop having sewn a custom insulated (have sewn before) or a custom single layer lunch bag (have never sewn) for yourself or someone else!

Skill Level: Beginner 
Skill requirements:
There are no prerequisites for this class; no sewing experience is necessary. ***However, if you want to do the insulated lunch bag version, some basic sewing experience is helpful. ***
Must be aged 16+.
In this workshop you will learn:
Basic sewing vocabulary
Basic fabric knowledge
Helpful tools you'll need to sew at home
How to cut straight lines
Sewing machine parts and functions
How to wind a bobbin and thread the machine
How to sew in a straight line and pivot around corners
How to sew in reverse
Basic lunch bag finishing or lined lunch bag finishing (depending on what bag you choose to sew)
Flat bottom gusset
Materials Needed: 
Insulated Lunch Bag **SOME BASIC SEWING EXPERIENCE **
1m Quilting cotton or light-medium weight canvas or .5 m of two different colour or printing fabrics (one main and one lining)

1 m Insul-bright quilted insulation fabric
1 spool of coordinating polyester thread
Sew-on velcro or snaps 
***PLEASE NOTE IF YOU CHOOSE THIS VERSION YOU MAY OR MAY NOT FINISH YOUR BAG DURING THE CLASS*** (WE WILL SEND YOU HOME WITH SOME INSTRUCTIONS TO FINISH) 
Single Layer Lunch Bag **NO SEWING EXPERIENCE 
.5m Quilting cotton or light-medium weight canvas or 2x fat quarters 

1 spool of coordinating polyester thread
Sew- on velcro or snaps 
We offer a 20% student discount on all your supplies for this workshop! You will be sent a code to use online once you've registered for your class.
Equipment requirements: We highly encourage you to bring your own sewing machine, however if you don't own a machine, one will be provided for you. If you'd like to bring your home machine, please remember to bring the manual (and foot pedal/power cord) and arrive 10 minutes prior to the scheduled time.
Group size: We like to keep our workshops cozy and fun, so attendance is limited to 6 guests.