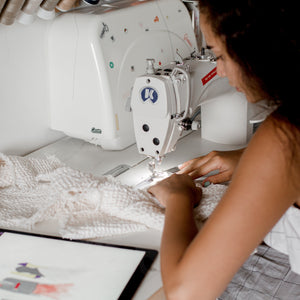 Previously called DIY Clothes Club, 'Teens on Machines' is for sewists aged 13-18 who want to make their own clothes. In this intermediate level class, they will deepen their knowledge of the garment design process, how to read patterns, how to cut fabric from paper patterns, and level up their garment construction and finishing skills. Teens get inspiration from each other, select their own projects, and work on them with guidance from the teacher.
Skill Requirements: 
This class is geared towards teenagers who have either been in Fashion Camp, Stitch by Stitch, or taken Private Lessons AND who regularly sew at home. This class is perfect for teens who are self-motivated and happy to work independently.
What We Provide:

Equipment: sewing machines and all tools



Patterns: we have patterns to make just about anything in the studio, but students are more than welcome to bring any patterns from home.




What You Provide:

Fabric: you are responsible for providing fabric for your teens' projects. Fabric can be purchased from us. 

We offer a 20% student discount on all your supplies or tools purchased in preparation for or on the day of your class! We sometimes receive donations of fabric from local sewists, which we offer up to students from time to time. If material costs are a barrier to joining this program, please let us know and we can try to source some for you.
Snacks & Refreshments: We encourage you to send snacks and refreshments as it's much easier to be creative when you have fuel for the brain!



Sewing machine (optional): we highly encourage your teen to bring their own sewing machine, if they have one. Don't forget to pack the manual, foot pedal & power cord!
Group size: Maximum 6 teens