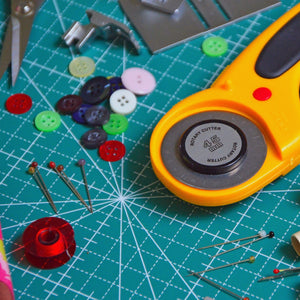 Stitch by Stitch is our after-school program for beginners ages 11-15. This program gets your pre-teen/teen started in sewing with the basics. Each week will involve review in order for them to solidify what they have learned. They get to choose fun projects to build their skills on. Then finishing the program having made a simple basic garment. 
**This program is designed so your pre-teen/teen can move into Make Club (Ages 8-12) or DIY Clothes Club (Ages 12-18) after they completed Stitch By Stitch. 
Stitch By Stitch runs on Wednesday after-school  from 3:45pm - 5:15pm. 
The cost is per 6 week session, and includes most materials. *See below in material requirements section. 
Skill requirements: Stitch by Stitch is geared towards total beginners. No previous experience necessary! 
Material requirements: Materials are provided for the first three weeks. 1.5 - 2.5m of soft quilting cotton (e.g. from Ruby Star Society) will be required for the garment project. Students are welcome to bring fabric from home or purchase it in the store. We offer a 20% student discount on all supplies or tools purchased during this camp.
Learning Outcomes: 
Week 1:
Introduction of the sewing machine/ threading and making bobbins
Cutting tutorial/safety (scissors and rotary cutter)
Choosing fabrics for first project and learning fabric basics
Design your own pillow, tote bag or fabric box (great for storing your fabric at home in) 
Week 2:
Review of the sewing machine/ threading etc.
Continue/finish project from week 1. 
Week 3:
Basics review (if feeling good about basics, may continue project)
Finish project from week 1-2.
Start a new project to build on your skills: Zippered pouch with applique design or mini quilt.
Week 4:
Learn how to use the walking foot (aka quilting foot) to sew thick layers together (If you chose to make the mini quilt) 
Continue/ finish project from week 3. 
Design and cut out your first simple garment project: Basic skirt, pajama pant, or simple woven top. 
Week 5:
Share 3 things that you remember about sewing/machine/fabric basics.
Continue project from week 3-4
Week 6:
Finish your final projects and review! 


Equipment requirements: We highly encourage you to bring your own sewing machine, however if you don't own a machine, one will be provided for you. If you'd like to bring your home machine, please remember to bring the manual (and foot pedal/power cord).
Group size: Maximum 5
Snacks & Refreshments: We encourage you to send snacks and refreshments as it's much easier to be creative when you have fuel for the brain!