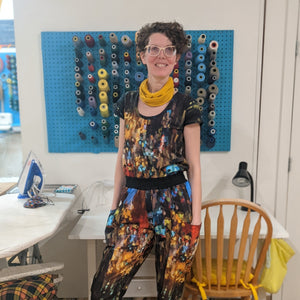 Come join us and other Queer folk to gather and sew in a relaxed, calming environment, to give support, share ideas and work on your projects. This gender celebrated clothing gathering is not a formal class, but more a facilitated event. Tanya will be there to support and celebrate your identity-confirming, joyously fabulous wardrobe journey and goals. 
Host: Tanya (she/her) - Queer community member
Materials needed:
Please note that you need to bring or purchase all your materials, but you can use the equipment and tools that live here. We do ask students to bring their own scissors and pins. You are welcome to bring your own machines along if you wish. 
We offer 15% off patterns and any materials you may need for your projects. 
Skills needed: 
You must have basic sewing machine skills to join our sewcials as they are not a formal class. If you are hoping to use a serger, coverstitch or industrial machine you must have past experience using one. If you want to use one of these machines, please make sure to book a private lesson before the sewcial if you've never used one before! 
Tea is included and guests are welcome to bring in snacks!
 Group size: Maximum 5 guests to keep our sewcials cozy and fun!