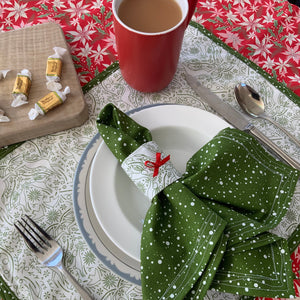 Learn the basics of operating a sewing machine in this 3 hour introductory workshop.  Leave the workshop having sewn a simple 'Holiday Themed Place Mat'
Whether you've never touched a sewing machine before or need a refresher after a long break, this workshop can help get you going!
Skill Level: Beginner 
Skill requirements:
There are no prerequisites for this class; no sewing experience is necessary. These classes are for brand new sewers who have no sewing machine experience or for those who have not sewn in a long time.
Must be aged 16+.
In this workshop you will learn:
Basic sewing vocabulary
Basic fabric knowledge
Helpful tools you'll need to sew at home
Sewing machine parts and functions
How to wind a bobbin and thread the machine
How to sew in a straight line and pivot around corners
How to sew in reverse
Learn how to work with bias tape
Learn to do simple quilting lines
You'll make a simple Place Mat!
Material requirements: 
 .5m of quilting cotton from one of our Holiday fabric collections. 
 

1 spool of coordinating 100m thread

 One pack of coordinating bias tape 
We offer a 20% student discount on all your supplies for this workshop! You will be sent a code to use online in a reminder email that you will receive before the class starts!
Equipment requirements:
We highly encourage you to bring your own sewing machine, however if you don't own a machine, one will be provided for you. If you'd like to bring your home machine, please remember to bring the manual (and foot pedal/power cord) and arrive 10 minutes prior to the scheduled time.
Group size: Maximum 6 guests to keep our classes cozy and fun!