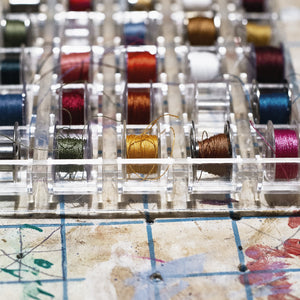 Make Club is our after-school program for kids ages 8-12.  This program best suits kids who want to choose their own felting or sewing projects while working at their own pace. This class is not suitable for beginners! 
This program runs on Tuesdays after-school  from 3:45PM - 5:15PM. 
We keep a wide range of project samples, books (including our Imagination Book) and sewing patterns on hand to be as flexible as possible allowing kids to be self directed in their sewing!
Materials for small projects will be provided but for bigger projects such as clothing you will need to supply your own fabrics.  
We offer a 20% student discount on all your supplies or tools purchased during the program! 
Prerequisite: Some previous sewing experience is required. Please reach out if you would like to arrange some 1-1 lessons in advance, or consider one of our programs such as Saturday Stitches for total beginners! 
Equipment requirements: We highly encourage you to bring your own sewing machine, however if you don't own a machine, one will be provided for you. If you'd like to bring your home machine, please remember to bring the manual (and foot pedal/power cord).
Group size: Maximum 6
Snacks & Refreshments: We encourage you to send snacks and refreshments as it's much easier to be creative when you have fuel for the brain!