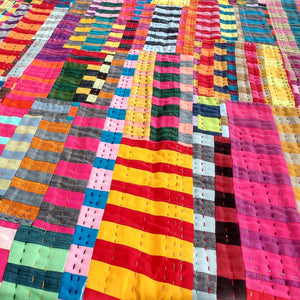 Join prolific improv quilter, elementary school teacher, and a crew of quilters in a relaxed atmosphere to share ideas and work on your projects! 

This is the perfect opportunity to finish up any unfinished improv quilts. This sewcial is geared towards anybody who has taken improv quilting w/Chris or is familiar with it.  
Please note that you need to bring or purchase all your materials, but you can use the equipment and tools that live here. We do ask students to bring their own pins. You are welcome to bring your own machines along if you wish. 
Tea is included and guests are welcome to bring in snacks!
You must have basic quilting skills to join our sewcials as they are not a formal class. 
We offer 15% off any materials you may need for your projects. The Green Thimble generously also offers 15% off (See link below)
https://www.thegreenthimble.ca/?gclid=CjwKCAjwnOipBhBQEiwACyGLukTORkoyHsNNKKI_BkDJw4R3aSYp9B2OjqH3OA2_DPY_1Zf2me3_JhoCXE8QAvD_BwE.