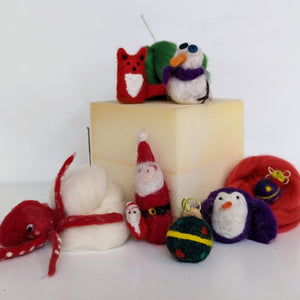 Come and Needle Felt your very own holiday ornament figurine or creature in this family friendly class! 
In this 2 hour class you will learn the basics of needle felting techniques to sculpt your figurine using wool roving and a felting needle!  
Skill Level: Beginner 
Skill requirements:
There are no prerequisites for this class; no sewing or needle felting experience is necessary. 
**THIS CLASS IS MULTI GENERATIONAL, HOWEVER MINIMUM AGE IS 8 YEARS OLD. 
IN THIS WORKSHOP YOU WILL LEARN:
Basic Needle Felting Techniques
Material requirements: 
**All Materials are INCLUDED to make your felted item to take home with you. If you would like more materials to take home,  you will have to purchase these items. 
We offer a 20% student discount on any supplies you like to purchase! 
Equipment requirements: ALL EQUIPMENT PROVIDED
Group size: Maximum 10 guests to keep our classes cozy and fun! 
**PLEASE NOTE THAT THIS CLASS BOOKS INTO 5 GROUPINGS OF 2 TOTALLING THE CLASS TO 10. WHEN BOOKING YOU PURCHASE 1 SPOT AND THAT WILL BOOK YOU AND ONE OTHER PERSON. (ADULT & ADULT OR ADULT & CHILD)