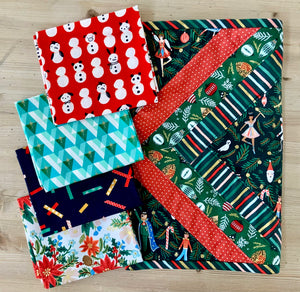 Learn in this 7 week class, fundamental quilting techniques, tips and tricks on a manageable scale! By the end of class, your child will complete a beautiful holiday themed quilt to keep them or a loved one cozy. If there's enough time, kids may have the opportunity to make a coordinating cushion cover.
Skill Level:
Advanced beginner 
Skill requirements:
Make A Holiday Quilt is geared towards children age 10-15 who have either been to Make Camp, Make Club, Saturday Stitches, or Stitch By Stitch, taken private lessons, or learned machine sewing with an adult at home. Your child must know how to use a sewing machine, wind a bobbin, and construct simple seams.
ALL SUPPLIES YOUR CHILD WILL NEED FOR THEIR QUILT ARE INCLUDED IN THE COST OF THE CLASS! This represents a savings of over 30% off our regular store prices!
Your child will receive:
- over 3 meters of one of three collections of holiday fabric of their choice
- quilt batting
- two spools of coordinating thread

During the seven weeks of class, you can take advantage of our 20% student discount to help you or your child build your sewing kit or stash!

***
In this workshop your child will learn:

New sewing vocabulary
The properties of quilting cotton

Proper cutting techniques
How to piece quilt blocks
How to assemble a quilt "sandwich"
How to quilt the pieced top, batting, and backing
How to bind their quilt
***
Equipment requirements: We encourage your child to bring their sewing machine to class, if this is practical and if they have one! Using one's own machine helps to build confidence with sewing at home without a teacher's guidance. If bringing their machine isn't practical, or they don't have a machine, they are welcome to use one of ours. 
Group size: Maximum 6 guests to keep our classes cozy and fun and to ensure each child gets the support they need!