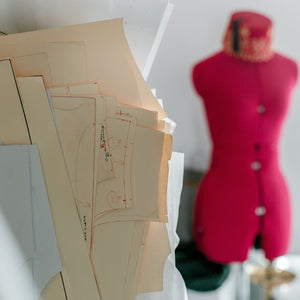 Do you have a favourite garment that fits you so perfectly that you wish you could recreate? It's not as hard as you think - even if you haven't made patterns before. This three-part workshop will show you the ropes! 

(Please note: due to time constraints, you will not be creating a new, wearable garment in this class. You will finish a pattern and possibly a muslin/mock-up of your copied garment).
Skill Level: Intermediate

Skill Requirements:
Advanced Beginner classes plus several completed items.

Experience successfully completing several sewing projects. This class will not cover basic sewing machine operations such as threading a needle, switching needles, how to adjust stitch length, locking stitches, reverse stitching, pivoting corners, winding bobbins etc. Students should be capable of performing these procedures without assistance.

For apparel making classes: you must have familiarity with using a sewing pattern, measuring oneself and picking a size.
Learning outcomes:

Learn to copy the shape of your garment
Transfer seam lines, grainline, darts, gathers, tucks and any other design details to your pattern
How to add seam allowances and notches for construction
Truing your pattern pieces
Test your pattern by creating a mock up
Because of the limited time frame, we recommend you bring something that is not too complicated. If in doubt, you could bring more than one garment and get advice from your instructor or come by the shop in advance to show us in person. 

There may be some homework between weeks, depending on the complexity of your garment. 
Material requirements:

Pen/pencil

Notepaper

Tracing paper/roll of paper for pattern pieces

Test fabric - Please bring a length of calico/muslin or other inexpensive material as close as possible in weight and drape to the fabric you intend to use for your final garment. (Eg. If your final garment will be made in cotton lawn a bed sheet or lightweight poly/cotton will do fine. If it will be made in heavy denim or wool, calico or canvas is best).
We offer a 20% student discount on all your supplies for this workshop! You will be sent a code to use online once you've registered for your class! 
Equipment requirements: We highly encourage you to bring your own sewing machine, however if you don't own a machine, one will be provided for you. If you'd like to bring your home machine, please remember to bring the manual (and foot pedal/power cord) and arrive 10 minutes prior to the scheduled time.
Group size: Maximum 5 guests to keep our classes cozy and fun!