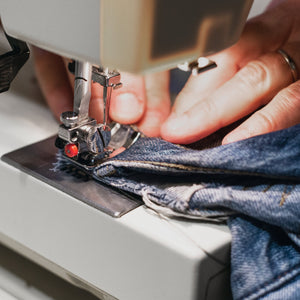 This is a 3-part class will cover essential tailoring and alteration techniques that will help you achieve a better fit. Sometimes it's hard to know what is possible and what simply can't be done to a garment. This class will include mending techniques that will help you revive your garments to a new look and function, so you don't add your clothes to the landfill.
Have you ever wished you could tailor your own clothes? Do you love garments in your wardrobe but have stopped wearing them as they just don't fit anymore, or need repair? Do you attempt to tailor clothes for yourself and your family with mixed results?  Let us show you simple tailoring techniques and mending, that we know to help you get a custom fit for the clothes that will add a new life to your clothes!
Skill Level: Intermediate

Skill Requirements:
Advanced Beginner classes plus several completed garments.

Experience in successfully completing several sewing projects. This class will not cover basic sewing machine operations such as threading a needle, switching needles, how to adjust stitch length, locking stitches, reverse stitching, pivoting corners, winding bobbins etc. Students should be capable of performing these procedures without assistance.

For apparel making classes: you must have familiarity with using a sewing pattern, measuring oneself and picking a size.
Learning Outcomes:
Basic tailoring vocabulary
Tips according to what fabrics you are working with
Tips for unpicking seams
Helpful tools you'll need to tailor at home
Taking in & letting out
Pin and transfer markings
Altering shoulders & armholes
Pant tapering – learn how to pin and alter the cut of your pants.
Mending techniques that adds to longevity of your garments
Material requirements: This workshop is a mix of demonstration and hands-on practice. We recommend that you bring in garments from your own wardrobe that you would like to alter.
Equipment requirements: We highly encourage you to bring your own sewing machine, however if you don't own a machine, one will be provided for you. If you'd like to bring your home machine, please remember to bring the manual (and foot pedal/power cord) and arrive 10 minutes prior to the scheduled time.
Group Size: Maximum 5 guests to keep our classes cozy and fun!