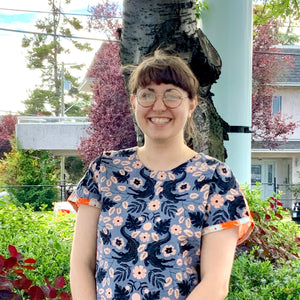 IF YOU ARE WANTING TO BOOK WITH HEATHER, PLEASE EMAIL US AT CLASSES@THEMAKEHOUSE.CA FOR AVAILABILITY - THANK YOU! 
Do you need help with your sewing project and one of our classes doesn't suit your schedule or your needs? Look no further, Heather is here to help you! 
This selection is if you want to book 1 hour or more up to 2 hours Max. **If you want to book 2 hours you will need to select 2 back to back 1 hour time slots. 
Heather teaches students from ages 8 and up and her skills can help you with any of the following:
- Beginner sewing 
- Advanced Beginner sewing
- Sewing Machine tutorials
- Basic garment projects 
- Home sewing projects (pillows, curtains etc) 
- Basic quilting projects
The following are the types of projects Heather would not be able to assist you with:
- Upholstery 
- Formal wear
- Advanced quilting projects
- Lingerie/bra making
- Serger tutorials
** If your project doesn't fit within Heather's skill set,  please book with Tanya.
Once you have booked your lesson, please email Heather at classes@themakehouse.ca to discuss your project in preparation for your lesson. Please caption the title as 'Lesson w/ Heather.' 
We look forward seeing you in our studio for your private lesson!