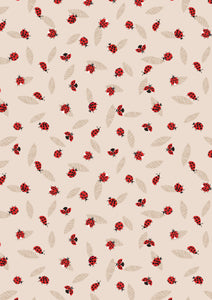 The world springs forth into colourful life. The fresh smell of fragrant blooms fill the air around us and ladybirds and butterflies flit from place to place. Spring flowers brings us a bright and vibrant reminder of this beautiful time of year with reds, bright pinks, duck egg and cornflower blues – a cornucopia of colour to work within.
Quantities are purchased by 1/4 meter units (e.g for full meter order 4 units).
Width: 44-45"
Material: 100% Cotton
Colour: Cream
Designer: Lewis & Irene
Collection: Spring Flowers
Origin: United Kingdom
Quantity ordered will be cut in one piece unless otherwise specified.